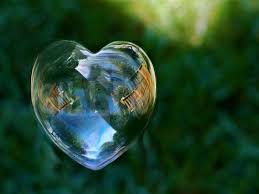 Creating a bubble of ease feels pretty pertinent to me right now. I live on the Gold Coast and for most of the time the energy is light and vibrant. However this is not always the case. A few days ago I visited Centrelink for a client. I was attempting to advocate and was abruptly greeted by a security guard who requested information. I was then asked the same questions only seconds later by a Centrelink staff member. There were no salutations, no smile and no sign of human connection. I was perplexed as to why the same questions needed to occur. I'm not entirely sure how the information that I presented about cold\flu like symptoms or questions about travel could have changed from the front door to the front desk.
By this time my energy felt heightened and there was no bubble of ease. I get it everyone in the world seems to be under huge amounts of stress and government officials are simply trying to follow instructions. What I am curious about is how does the simplicity of connection get lost through translation? Why couldn't there be a smile? Why couldn't the questions be asked in a more dignified manner opposed to barking orders? How do we navigate this world right now with ease?
For me my senses are heightened. I become anxious in harsh settings so I am finding new ways to create a bubble of ease when I travel to complete daily work and personal tasks. For my Melbourne family and friends I know this is an area that has become somewhat normal. I am finding our new so called "normal" confronting and somewhat suffocating. The signs that remind us not to stand too close, the arrows on the floors that dictate which way we are meant to be walking and the screens behind each counter that are protecting us from the spread of further infection.
So how do we travel with ease when it seems that as a collective we are somewhat divided? How do we continue to come from a place of love when we can have such opposing views in regards to what is happening in our universe? I am tired of debating what is true to me. It saddens me that I don't know when I will see my family next. My soul hurts that so many are suffering because of restrictions. It is a cruel and harsh reality that we cannot celebrate life and death in ways that we are accustomed. We are all affected in one way or another but what we do have is compassion, what we do have is spirit and what we do have is a beating heart that reminds us that we are alive. A heart that sings true to the collective response of unity in consciousness and a reminder of being leaders of hope in all that we do.
2020#connect2createchange#.
With a splash of mermaid magic and let unicorns lead your way.
HUGE LOVE
Sonia xxo