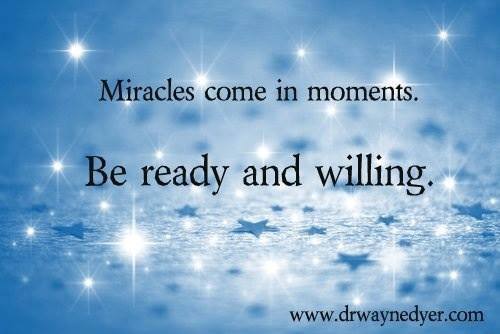 I have been speaking to a friend in the last few days about life and what it all means. You know the kinds of conversations that you tend to have with a loved one where you are going to save the world. When I looked at the statement for today I breathed a sigh of relief because it fell into sync beautifully with what has been a theme especially in the last few days.
We are such a busy, time driven robotic society that sometimes we simply forget to show up. By this I mean we can be physically present in a place or time but what we fail to do is to be present. We can have a gazillion other things going on in our minds at exactly the same time. What we seem to dismiss time and time again is the miracles that surround us each and every moment. Stop for a moment and look around. Are you in your home? Are you on a phone? Are you surrounded by loved ones? Are you clothed? Are you warm? Are you having dinner tonight? Are you breathing? Well I truly hope you are breathing otherwise I am chuffed that you decided to tune in from the afterlife. In just a few moments are you able to feel and nourish the blessings of gratitude that surround you at this perfect time.  Is it perfectly imperfect?
I was speaking to a client today about depression and anxiety that was going on for them. We fight so hard to dismiss these feelings. It is not until they get us to a point in which we can no longer function that we tend to do something about it. As humans we try so naturally do anything but feel. We are not afraid to feel happy or blissful yet we navigate so harshly to deflect what we perceive as painful or too difficult to deal with. What is we just sat in our stuff and worked out why we got to that place in the first instance. We may not work it out straight away but allowing is far better than shovelling under the pile that has already existed for so long.
So rather than being so harsh and depreciating on ourselves for not having done this or that, how about we just take a moment to honour ourselves just as we are. To show up and to be real and authentic in whatever it is that we are doing. Whether it is walking the dog, buying milk, taking out the garbage, running a country or whatever it may be, just be you. Rather than dissembling ourselves into fragments that we no longer recognise perhaps it is time to stop, breather, and show up and communicate, for this is the true miracle of life. Blessed be and so it is. Namaste.
With a sprinkle of fairy dust and may magic follow your day.
HUGE LOVE
Sonia
xoxox