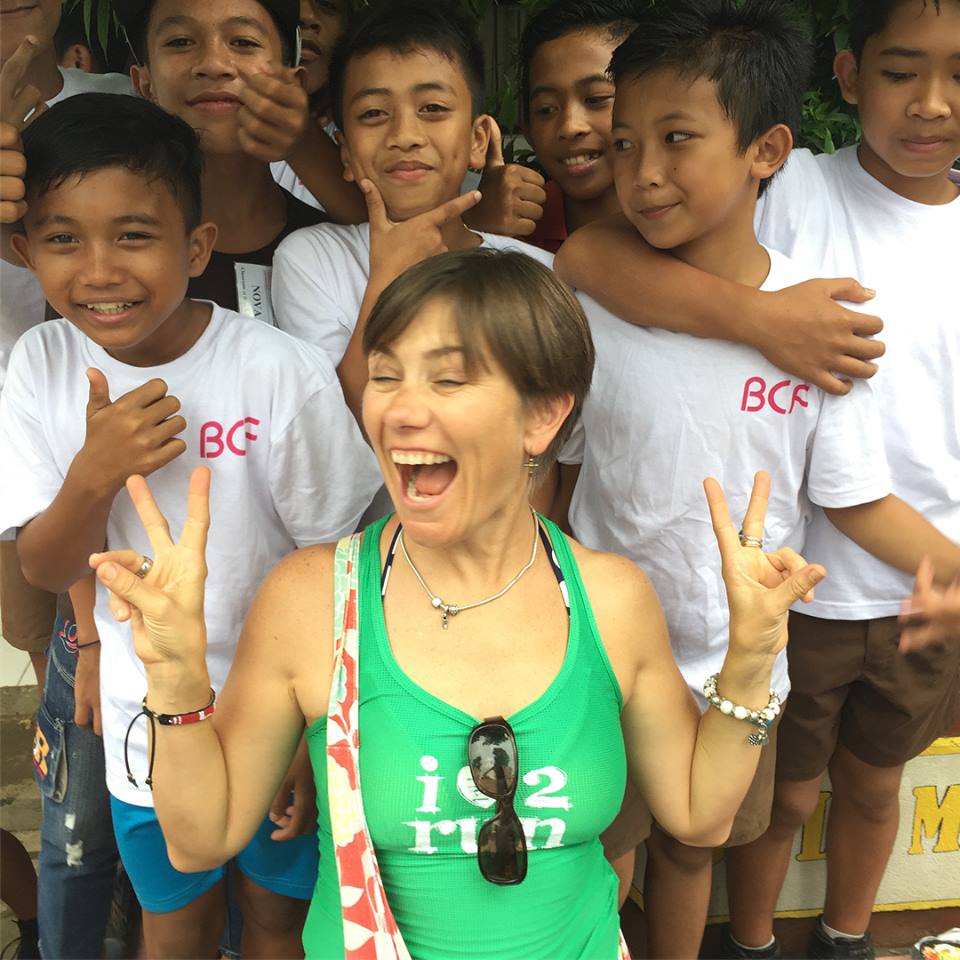 (beautiful Michelle in Bali)
I caught up with this inspiration of a woman yesterday. She has just returned from a whirlwind of a trip where she ran 84km across Bali. People came from across the globe to raise money for an organisation that supports an end to poverty through education. 84kms!!! I am lucky to be able to run 2 kilometres without stopping. I was in awe of her whole being light up as she spoke about her love of running and being of service. As I later watched some of the highlights from her run she spoke at the end of her 84km with so much courage and inspiration. I can barely breathe after 30 minutes of cardio! Her words resonated and I was filled with goose bumps and tears. "Love is what and why I do everything".
I met Michelle a few months ago. We literally bumped into each a few days ago and decided to finally catch up for that coffee that we had been meaning to have. I am so grateful that we did. It was such a perfect reminder about life and why we are here. Ultimately as far as I am concerned we are all responsible to make the world a better place. For most of us we live in a very fortunate place with more than we could ever possibly need. I am aware that there are a lot of people that are doing it tough and I am by no means undermining this for others. Instead I have seen this as a huge reminder mostly to myself. Is love what and why I do everything? Our lives are so precious and short so why would we possibly have it any other way.
Michelle and I largely spent most of our "coffee time" together speaking about being of service. What joy we have both received being in a country less fortunate than ours doing something that we love. I couldn't remember the last time that I had spoken about the work that I do in Cambodia or more importantly dedicating specific time and energy into a place that has filled my heart with so much love. If we are not doing everything with love are we living from a place of fear?
I am not claiming to know all the answers nor am I professing to know it all. Far from it and we are always learning and evolving. I know that the last few weeks I have been settling and grounding into what my life now is. With that has also come of me being in my head and not my heart. Sometimes we need to be there in order to realign to where we need to be. Yesterday for me was a little nudge a small reminder of what life truly means to me. It was an opportunity to reconnect me to my "why" in life. I know that connection to self and others is fundamental to our human existence. Without out we can feel lost and empty. When we truly know that we are all connected it is then that we can truly know and feel that everything we do is from a place of love. Blessed be and so it is.
With a sprinkle of fairy dust and may magic follow your day.
HUGE LOVE
Sonia
xoxox