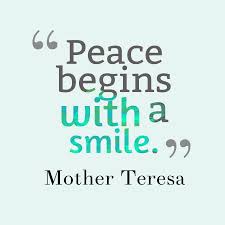 For last few weeks for some reason I have had a hymn that has been going through my head. "Make me a channel of your peace" which is a prayer of St Francis.  Today I sat and reflected of this hymn that has been playing time and time again in my thoughts I felt what it actually meant to me. As I spend time in Cambodia I learn so much and it makes me realise even more how much personal responsibility that we ALL need to take in the world! It is not just about spending time in a third world country but having an awareness of what makes our heart sing, what our gift is to the world and how honoured it is to share it with others.
In March this year I lost my cousin to suicide. It tore my heart and the pain and grief associated with her death has been immense. This week for me has been a myriad of emotions which have ranged from pure joy to such injustice and sadness. The magic of Cambodia is the contrast that it displays on so many levels and why I love it so much. I know my cousin has been by my side especially this week as I follow my heart and know that a lot of my healing has happened here. What I know even more now is how much the stigma of mental health needs to dissipate so we are able to heal and share our love and magic in the world.
I read a quote today that said "The greatest journey you will make is from your head to heart" This few words are so simple yet so profound and if I can sum up what gifts Cambodia has bestowed on me it would be my journey from my head to my heart. Depression and mental illness comes from living in your head. Living in our heads is fuckin dangerous and can only cause havoc and chaos in our minds and lives. It puts us into our own world and we do not have the capacity to go outwards and feel what it is that we need to feel for ourselves and others.
Being a channel of peace means for me that it is time to step up and be proud of what depression and mental illness represents. I feel that the death of my beloved cousin Cathy has been paired to shed hope, love and light to others. That the struggle of suicide is something that no person should ever feel is the answer. That we are all one in our beloved universe and we all have the ability share our own unique gifts and light in this world. If there is one gift that I am able to give to the world it is to shed hope and light to those that have ever felt that suicide is the answer. Discovering my journey from my head to my heart is one that comes from pain and grief but transcends to bliss and magic. I am a channel of peace. Every word, though and action that I take is PEACE. Blessed be and so it is, so it is done. Namaste.
With a sprinkle of fairy dust and may magic follow you day.
With love
Sonia
xoxo